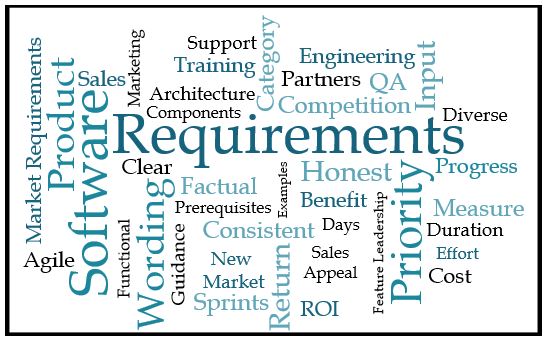 A Cloudburst is a novel idea. It's an online discussion focused on a word cloud. Everyone chimes in to contribute their ideas.
Take a look at this word cloud I made about Software Requirements. Add your thoughts to the discussion in the comments below! What do you think?
Let's Hear From You
Do you work with software requirements – either suggesting and submitting them, writing and qualifying them, or putting them into code?
Which of the ideas in this word cloud speak to you?
Are there some you strongly agree with?
Are there concepts that are missing?
Anything here you think doesn't fit?
Does more need to be said about some?
Which ones ring true?
Which are a surprise?
Which ones weren't obvious to you at first but you've come to value their importance?
Check back in to learn what others are saying about software requirements.
— Jacques Murphy, Product Management Challenges
ProductManagementChallenges.com